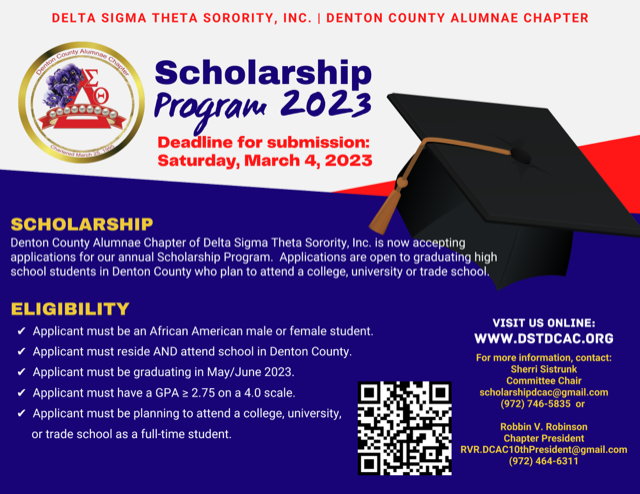 The Denton County Alumnae Chapter of Delta Sigma Theta Sorority, Incorporated, is a public service organization whose sole purpose is to provide community outreach and social uplift to the Denton County Communities. Denton County Alumnae will be awarding scholarships to eligible African American graduating high school students within Denton County.
ELIGIBILITY REQUIREMENTS:
Applicant must be an African American male or female student
Applicant must attend school and reside in Denton County
Applicant must be attending:

a college/university, graduating May/June 2023 school year or
 a trade school, graduating May/June 2023 school year

Applicant must have a GPA ≥ 2.75 on a 4.0 scale
SCHOLARSHIP APPLICATION PACKET REQUIREMENTS:
The applicant will be required to submit an application, three (3) letters of recommendation, a small photo, and write a short essay to be considered for a scholarship. Additionally, an official transcript and a copy of the applicant's first-semester report card (Fall 2022) will be required.
LETTERS OF RECOMMENDATION:
One (1) from a faculty member written on the school's official letterhead
One (1) from a community service organization written on the original letterhead
One (1) personal recommendation from someone other than a relative
APPLICATION DEADLINE:
The completed application, official transcript, letters of recommendation, and essay must be submitted by Saturday, March 4, 2023. After this date, no applications will be accepted.
SCHOLARSHIP AWARD:
The scholarship recipients will be recognized at the sorority's annual May Week program on Sunday, May 7, 2022.
CONTACT:
You may send questions to scholarshipdcac@gmail.com or call Sherri Sistrunk at (972)746-5835.
APPLICATION:
tinyurl.com/DCACScholar2023