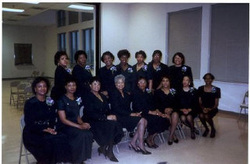 Denton County Alumnae Chapter
Chartered March 25, 1995

Exercising extraordinary vision to establish and promote programs that include support, scholarship, and service to the greater Denton County area communities, fourteen women led the charge for the charter of Denton County Alumnae Chapter.


On March 25, 1995, under the leadership of Southwest Regional Director, Shirley Fridia and the 20th National President, Bertha M. Roddey- Sorors Sharon Burleson, Shelly Bayless Butler, Vicki Byrd, Rose Chew, Bertina Hildreth Combes, DeLana Cofield, Sandra Doublin, Johnnie Gales, Margaret Gipson, Gladys Hildreth, Valda Morgan, Carolyn Price, Loretta Roberson, and Dorothy Watts humbly committed themselves and our beloved Sorority to provide unwavering support to the Denton county communities. 


Since its charter, DCAC has seated ten presidents: Rose Chew, Beverly Marshall, Valda Morgan,
Dorothy Watts, Vicki Byrd, Karen D. Moore,  Katrina Haley, Cleo Birckbichler, Darlene Petit, and Robbin V. Robinson.  It has been under the leadership of
these women that DCAC has put on many successful award-winning programs focusing on our Five Point Programmatic Thrust; these programs include but are not limited to:
E.M.B.O.D.I. - Empowering Males to Build Opportunities for Developing Independence
Mission Ghana - International Awareness and Involvement Initiative
Delta Home Ownership Challenge - Economic Development initiative
Sugar Free Fridays - A Physical and Mental Health initiative 
The only African American alumnae sorority in Denton county to service all cities in the greater Denton county area, DCAC has blazed the southwest trails by becoming well known for our three signature event programs: 
The Women's Symposium - Program designed to Empower Women
Annual HBCU's Information Session - Promotes awareness of

Historically Black Colleges and Universities

and their academic programs
Annual Town Hall Meeting - Meeting that focuses on social action and economic development initiatives.
Additionally, and to our credit, DCAC has been instrumental in the development of programs and partnerships throughout the greater Denton County area. 
We have built strong, continuous, and unyielding relationships which include but is not limited to the Denton Police Department, as a member of their United Community Action Network (UCAN) Program, Texas Woman's University, a recognized sponsor of our Women's Symposium and Delta GEMS program, Little Elm Independent School District partnership for Voter Registration Drives during football season, Frisco Independent School District partnership as host district for our annual Historically Black Colleges and Universities Information Session, Denton City Council for facilitation assistance with our Town Hall Meetings, Fred Moore Day Care Center Toy Drive, Tomas Rivera Elementary Mentoring Program, and Habitat for Humanity.
A sisterhood called to serve: Denton County Alumnae is committed to transforming lives and impacting the community
It is Our Responsibility and It Is Our Legacy!

Charter Members:
Shelly Bayless
Sharon Burleson
Vicki Byrd
Rose Chew
DeLana Cofield
Sandra Doublin
Johnnie Gales
Margaret Gipson
Bertina Hildreth
Gladys Hildreth
Valda Morgan
Carolyn Price
Loretta Roberson
Dorothy Watts